Cards With No Home
Cards With No Home by Alex
1992 cards in Multiverse
475 with no rarity, 214 commons, 467 uncommons,
619 rares, 210 mythics, 3 basics, 4 tokens
1 token black, 1 token red, 1 token artifact, 1 colourless blue, 24 colourless, 237 white, 291 blue, 205 black, 230 red,
205 green, 427 multicolour, 52 hybrid, 15 split, 134 artifact, 164 land, 2 scheme, 2 plane
4307 comments total
Cards that don't fit into our actual themed sets. Open to all: throw your random ideas in here, or come along for some random ideas for your set.
Cardset comments (19) | Add a comment on this cardset
Recently active cards: (all recent activity)
U
Creature – Skeleton Ninja
Grave jutsu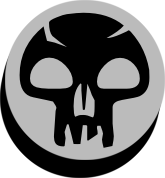 (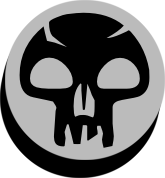 , Sacrifice an unblocked attacker: Return this card from the graveyard to the battlefield tapped and attacking.)
Whenever Unfettered Assassin deals combat damage to a player, remove up to one counter from target permanent.
Prevent all damage Sightless Stomper would deal to players.
Sightless Stomper must be blocked each turn if able.
Flip three coins. Draw a card for each coin that comes up heads, then discard a card for each coin that comes up tails.
"The Izzet have no clue what they're doing"
-Azorius Propaganda
Flash
Whenever a spell or ability an opponent controls causes that player to search a library, you may pay

. If you do, copy that spell or ability. You may choose new targets for the copy.
Each player draws cards equal to the greatest power among creatures they control, then each player discards cards equal to the number of creatures they control.
See other cardsets