Cards With No Home
Cards With No Home by Alex
2777 cards in Multiverse
706 with no rarity, 286 commons, 650 uncommons,
859 rares, 268 mythics, 4 basics, 4 tokens
91 colourless, 1 token artifact, 1 token red, 1 token black, 1 colourless blue, 345 white, 397 blue, 262 black, 308 red,
257 green, 601 multicolour, 77 hybrid, 22 split, 198 artifact, 211 land, 2 scheme, 2 plane
6177 comments total
Cards that don't fit into our actual themed sets. Open to all: throw your random ideas in here, or come along for some random ideas for your set.
Cardset comments (23) | Add a comment on this cardset
Recently active cards: (all recent activity)
Mentor
If you would lose the game and your life total is greater than 0, put a +1/+1 counter on a creature you control instead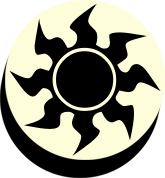 : Martial Trainer gets +1/+0 until end of turn
At the beginning of each opponent's upkeep, gain control of each permanent you own but don't control.

Whenever a card to a player's hand from the graveyard, that player discards a card.
Vigilance
Permanents attached to ~ have totem armor.
When any player casts a spell targeting ~, you may pay

. If you do, ~ gets +1/+1 until end of turn.
Destroy target permanent other than a basic land. Search its controller's graveyard, hand, and library for any number of cards with the same name as that permanent and exile them. For each permanent destroyed and for each card exiled from hand this way, it's owner may search their library for a basic land card and put it onto the battlefield. Shuffle any library searched in these ways.
See other cardsets