Multiverse Feedback
Multiverse Feedback by Alex
263 cards in Multiverse
156 with no rarity, 96 commons, 3 uncommons,
2 rares, 6 mythics
1 colourless green, 37 white, 59 blue, 2 black, 36 red,
88 green, 1 multicolour, 3 hybrid, 34 artifact, 2 land
914 comments total
Report bugs and discuss ideas for new features here
This is not a conventional set of cards. Instead this is where to track bugs and upcoming features in Multiverse.
If you want to report a bug or suggest a feature, click New card above!
You can use the colour/frame of the "card" to indicate what type of issue you're creating:
BLACK for security or privacy issues or other "evilness"
RED for bugs of any other kind
WHITE for user interface suggestions, making it easier to do things you already can do
BLUE for feature suggestions, allowing you to do things you can't already do
When an issue is completed, it'll become GREEN.
If an issue is not a bug, is unreproducible, or a duplicate of another record, it will be marked as ARTIFACT.
Please comment on suggestions if they matter to you. If you see a proposal that you like, add a comment saying you want it. Alex is far more likely to add a feature if lots of people want it!
Cardset comments (10) | Add a comment on this cardset
The set creator would like to draw your attention to these comments:
Recently active cards: (all recent activity)
On many cards, the text size in the mockup at top-left is slightly smaller than the text size for the same card in the hover tooltip on the "User created Cardname" links.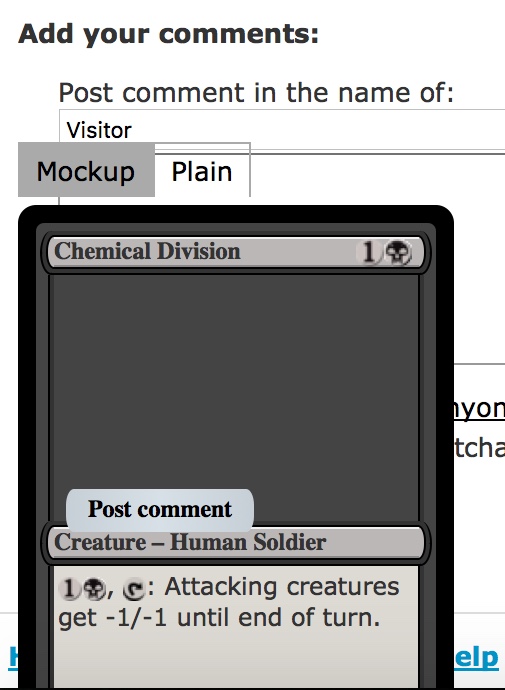 Whenever I try to make a comment on a card, it covers the comments.

Can you remove the fixedinner class from cardfixedwrapperinner? That seems to solve the issue.
Is there a way to have the reminder text of a given mechanic convert numbers given in a parameter to the English word equivalent?
Eg Mechanic 3 (Draw three cards.)
See other cardsets