Fetish Wars
Fetish Wars by Sorrow
145 cards in Multiverse
60 commons, 40 uncommons, 35 rares, 10 mythics
10 white, 11 blue, 11 black, 11 red, 11 green,
45 multicolour, 21 hybrid, 15 artifact, 10 land
81 comments total
Okundwa pt. II
Cardset comments (2) | Add a comment on this cardset
Recently active cards: (all recent activity)
As long as you have no cards in your graveyard Cackleless Yerba gets +2/+2.
"I nothing to call on other than my own teeth."
Lifelink, Stampede (Creatures you control with stampede can't be blocked unless all attacking creatures you control with stampede are blocked.)
Wither
When Midnight Spiritkeeper enters the battlefield, if there is a creature card in your graveyard, you may gain 4 life.
When Funanya's Disciple enters the battlefield return target creature you control to its owner's hand. If that creature had a -1/-1 counter on it you may draw a card.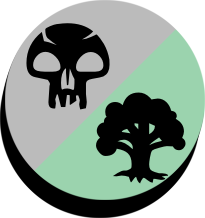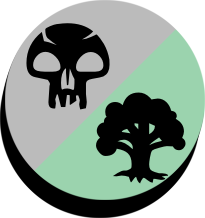 , put a -1/-1 counter on a creature you control: regenerate Hexeater Troll.
Creatures without -1/-1 counters on them can't be the target of spells their owners cast.
See other cardsets