Pantheon of Szykielwa
Pantheon of Szykielwa by Sorrow
151 cards in Multiverse
74 commons, 34 uncommons, 32 rares, 11 mythics
13 white, 14 blue, 12 black, 12 red, 13 green,
52 multicolour, 20 hybrid, 5 artifact, 10 land
30 comments total
Apostasy is afoot on a plane ruled by the gods and governed by their cults.
Cardset comments (1) | Add a comment on this cardset
Recently active cards: (all recent activity)
Voidbringer Angel costs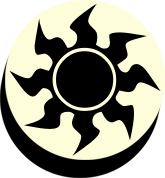 less for each creature that was exiled from anywhere this turn.
Flying
Whenever a creature dealt damage by Voidbringer Angel this turn would die, exile that creature instead.
Cast Magnitude Elemental only if you control a green permanent.

You may have Magnitude Elemental assign combat damage as though it weren't blocked.
Prayer (As you cast this spell you may tap a creature of a different color. If you do, this spell gains that creature's colors.)
Copy target instant or sorcery spell. You may choose new targets for the copy.
If Storm Path is blue, counter target spell. If Storm Path is green, destroy target creature with flying.
When Mawauc Librarian enters the battlefield, return target instant or sorcery from your graveyard to your hand.

Mawauc Librarian can't be blocked you control no other attacking creatures.
Distribute X +1/+1 counters among any number of creatures you control, where X is the number of creatures in your graveyard.

Creatures you control with counters on them gain indestructible until end of turn.
See other cardsets