Ulaqat
249 cards in Multiverse
101 commons, 80 uncommons, 53 rares, 15 mythics
44 white, 43 blue, 44 black, 44 red,
43 green, 2 multicolour, 12 artifact, 17 land
233 comments total
Snow World
The set creator would like to draw your attention to these comments:
Recently active cards: (all recent activity)
When Grisly Exploitation enters the battlefield create a 1/1 black human cleric token with "Sacrifice this creature: Target player loses 1 life."
Whenever you sacrifice a creature, you may add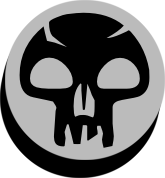 to your mana pool.
When Nulun's Falsifier enters the battlefield gain 4 life if a creature you control attacked this turn.
"Nulun led humanity to where we could survive. The hearty stayed out in the frozen wastes, while we followed Nulun through the Green Band."
Whenever a Emperor Mammoth attacks, reveal the top card of your library. If a creature card is revealed this way untap all creatures you control, then out a +1/+1 counter on all creatures you control.
Its trumpet can be heard across all of Ulaqat, from the the northern Yukanaq to the southern Onyat.
Morbid- When Zombies in the Snow enters the battlefield, if a creature died this turn, scry 2.
Occasionally necromancers take up residence in The Great Flat Desert, their servants having no complaints about the inhospitality.
When Frostbane enters the battlefield players can't cast snow spells or activate non-mana abilities of snow permanents until end of turn.
A stillness to halt even the mighty Winter.
See other cardsets