Castes of Suvnica
Castes of Suvnica by Circeus
246 cards in Multiverse
101 commons, 85 uncommons, 46 rares, 14 mythics
6 colourless, 2 colourless white, 3 colourless black, 2 colourless red, 2 colourless green, 3 colourless blue, 34 white,
31 blue, 32 black, 34 red, 33 green, 52 multicolour, 7 artifact, 5 land
157 comments total
Based off the Goblin Artisans Suvnica project
An attempt at turning my suvnica concepts into a set. It will have a significant colorless theme, and although generally intended to play well with earlier sets, certain departures will make individual cards problematic in eternal format, something that I have accepoted as not being a required chokehold on my design.
The guilds in this set are ­
­
Rimid (with the Voidmind mechanic) ­
­
Zhavi (with Interdict) ­
­
Tezzi (with Encore) ­
­
Grohm (with Bulkmight) ­
­
Aynsele (with Leadership) ­
­
These guilds were chosen to balance between putting guilds in the first set that have not been in either Ravnica or Return and the need to ensure that certain synergies existed (Otherwise we end up with Orzhov-Boros-Gruul-Simic-Dimir, where there are little to no inherent synergies).
Additionally I intend to try and work certain monocolor themes, each of which (ideally) would interact with a guild from each set, currently these are: ­
­
: "Small is beautiful" (Zhavi + Sorba) ­
­
: Colorless matters (Rimid + Azorius) ­
­
: Death triggers/graveyard ressources (Zhavi + Gilrog) (these are complementary on another front) ­
­
: Tokens (Tezzi/Grohm + Sodkar) ­
­
: Fate counter interactions (Aynsele + Cimis) ­
­
Cardset comments (2) | Add a comment on this cardset
The set creator would like to draw your attention to these comments:
Recently active cards: (all recent activity)
Whenever Slithergang attacks or blocks, each player mills a card.
Whenever a colorless creature enters the battlefield under your control or a creature you control is turned face-down, target player mills two cards.
U
Creature – Skeleton Rogue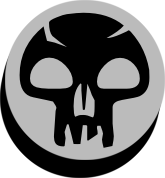 , Mill three cards: Return Eyeless Onlooker from your graveyard to your hand.
Mill three cards, then target player loses life equal to the number of cards in your graveyard.
Name a card. Search target player's graveyard, hand, and library for any number of cards with that name and exile them, then that player shuffles their library.
For as long as those carsd remains exiled, you may cast them, and you may spend mana as though it were mana of any type to cast them. Exile Shred the Mind.
See other cardsets