Diaspora
165 cards in Multiverse
60 commons, 60 uncommons, 35 rares, 10 mythics
28 white, 28 blue, 28 black, 27 red,
28 green, 6 multicolour, 13 artifact, 7 land
121 comments total
Quinnesheen pt. II
Cardset comments (5) | Add a comment on this cardset
Recently active cards: (all recent activity)
Deal 1 damage to all creatures. Whenever a creature dealt damage this way dies this turn, add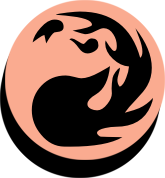 .
Perhaps none felt more despair than the Doomspeakers once the Usher removed the voice and cast aside the twin.
Untap up two two target creatures you control. They get +1/+4 until end of turn.
The runac charged the two, and one lived to tell the other's story.
Look at the top 3 cards of your library. Add one to your hand and exile the other two. Whenever you cast a spell sharing a name with any card exiled by Shape the Future shuffle the exiled spell into your library and draw a card.
Shuffle four permanents you control into their owner's libraries: Gain control of target non-land permanent.
Everything familiar seemed fearsome and foreign.
When Kindred Hedonist enters the battlefield you may discard a card and then draw a card if you control another red creature.
Moments of shared happiness have a power that shared dread could never have.
See other cardsets