Battle for Farthen Dûr
Battle for Farthen Dûr by Samuel
260 cards in Multiverse
101 commons, 75 uncommons,
57 rares, 16 mythics, 11 tokens
2 token black, 3 token green, 1 token hybrid whitegreen, 3 token white, 1 token red, 1 token hybrid redgreen, 35 white,
35 blue, 35 black, 35 red, 35 green, 55 multicolour, 13 artifact, 6 land
66 comments total
The final set in the Eragon block!
Cardset comments (4) | Add a comment on this cardset
The set creator would like to draw your attention to these comments:
Recently active cards: (all recent activity)
Up to three target creatures get +2/+2 and gain lifelink, vigilance, indestructible, and "Whenever this creature deals combat damage to a player, draw two cards" until end of turn.
R
Legendary Creature – Human Warrior
Haste
Whenever Murtagh Morzansson attacks, it deals 1 damage to target creature and 1 damage to you.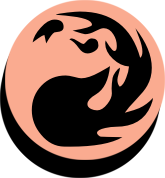 : Murtagh gets +1/+0 until end of turn.
Put two 1/1 white Soldier creature tokens onto the battlefield.
Tap target land.
Enchant creature
Enchanted creature gets +1/+3 and has lifelink.
See other cardsets