[Duel Deck] Orcs vs. Humans
38 cards in Multiverse
15 commons, 13 uncommons, 6 rares, 4 tokens
1 token hybrid blackred, 1 token multicolour, 1 token white, 1 token green, 8 white, 3 blue,
10 black, 4 red, 3 green, 4 multicolour, 1 hybrid, 1 artifact
61 comments total
So, I noticed that no Warcraft-themed set ever made it to completion. I think the average RTS is just a good target for a Duel Deck approach.
Duel Deck: Orc vs. Humans
This product is based on the Real-Time Strategy game Warcraft: Orcs & Humans. The game has two factions: Orcs and Humans. These would later be expanded until they form the Horde and the Alliance respectively in World of Warcraft. This set will concentrate on elements of the game series and franchise already present in the original game though allusions to themes introduced later on are not out of question.
See also:
Cardset comments (8) | Add a comment on this cardset
The set creator would like to draw your attention to these comments:
Recently active cards: (all recent activity)
Rain of Light deals 2 damage to each attacking creature.
Illus. source: Fate/Stay Night
When Horde Peon enters the battlefield, add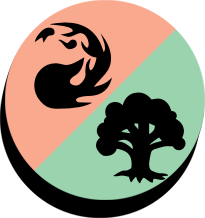 . Spend this mana only on Orc spells.
Return target creature card from your graveyard to your hand.
Menace (This creature can't be blocked except by two or more creatures.)
Raid — At the beginning of your end step, sacrifice a creature unless you attacked with a creature this turn.
If a creature you control would die this turn, exile it instead. At the beginning of the next end step, return all cards exiled this way to the battlefield under their owners' control.
See other cardsets