Sky Realm
Sky Realm by DiegoK
234 cards in Multiverse
105 commons, 58 uncommons,
51 rares, 15 mythics, 5 basics
41 white, 40 blue, 41 black, 41 red,
41 green, 11 multicolour, 7 artifact, 12 land
136 comments total
Cardset comments (2) | Add a comment on this cardset
Recently active cards: (all recent activity)
Whenever Skywatcher attacks or blocks, it gains flying until end of turn.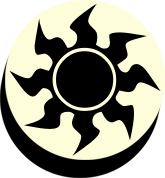 : Skywatcher gets +0/+2 until end of turn.
Humans prayed each day. As they fought at night.
Destroy target green creature. It can't be regenerated.
Usually ancient magic is the most useful and versatile one.
Enchant land
Enchanted land is a 0/1 blue Illusion creature. It's still a land.
God prays for us.
See other cardsets