Phyrexian Descent 2
Phyrexian Descent 2 by Vonmarcus
8 cards in Multiverse
4 commons, 2 uncommons, 1 rare, 1 mythic
1 colourless, 1 white, 1 blue,
3 black, 1 red, 1 green
38 comments total
As the in-fighting continues, the various factions withing the Great machine are beginning to work together. Some in the open and some in secret. Those in secret have begun searching for a way to spread the Phryisis once the war to unit the phyrexians come to an end.
Recently active cards: (all recent activity)
Until end of turn you have "Pay 2 life and gain a poison counter: Add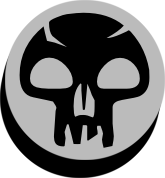 to your mana pool."
Flying
Sea Trinket get +1/+1 for each untapped island your opponent controls.
Fear
Marsh trinket get +1/+1 for each untapped swamp your opponent controls.
See other cardsets