Wrack
40 cards in Multiverse
6 commons, 12 uncommons,
17 rares, 3 mythics, 2 tokens
1 token blue, 1 token green, 1 white, 6 blue, 1 black, 1 red,
1 green, 19 multicolour, 1 hybrid, 1 artifact, 7 land
67 comments total
set 2 of the Storm-Wrack-Ruin Block.
Cardset comments (1) | Add a comment on this cardset
The set creator would like to draw your attention to these comments:
Recently active cards: (all recent activity)
Reach
(This creature can block creatures with flying.)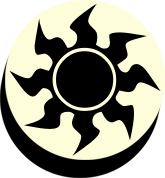 : Seahawk Marksman gains First Strike until end of turn.
The Seahawks boast some of the finest marksmen in Aquateria, able to pick off single foes at incredible distances.
Flying, Altitude (This creature cannot be blocked by creatures with Reach.)
The Seahawks faction take their name from this marine bird.
Bloodthirst 1 (If an opponent was dealt damage this turn, this creature enters the battlefield with a +1/+1 counter on it.)
Vigilance (Attacking doesn't cause this creature to tap.)
Experienced mariners always keep one eye on the horizon to avoid nasty surprises.
Harbour Guard can block creatures with Islandwalk.
The Harbour Guard keep a constant vigil over the sea, protecting Altarran harbours from all kinds of menaces.
See other cardsets