[Planechase]
12 cards in Multiverse
1 with no rarity, 6 uncommons, 3 rares, 2 basics
2 colourless, 2 white, 1 red, 2 green,
3 multicolour, 1 hybrid, 1 artifact
22 comments total
Assorted cards for Planechase game variant.
Possible themes: Journeys of the Weatherlight (would focus on older planes); in the wake of the Gatewatch (recent planes); custom storyline?
The set creator would like to draw your attention to these comments:
Recently active cards: (all recent activity)
Exile target nonland permanent until the next time a player planeswalks.
Not all who wander are lost. When it comes to wandering the planes though, being lost becomes the rule rather than an exception.
Whenever a player casts a planeswalker spell or planeswalks, draw a card.
Whenever Ajani's Diplomacy enters the battlefield or a player planeswalks, create a 1/1 white Cat creature token.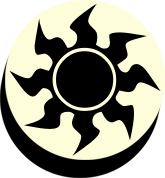 , Sacrifice Ajani's Diplomacy: For each token you control, create a 1/1 white Cat creature token.
It is no wonder to Ajani that he finds allies wherever he travels, in his mind it's just about opening eyes to the good cause.
Nissa's Phytohydra enters the battlefield with a +1/+1 counter on it.
Whenever a player planeswalks, put a +1/+1 counter on Nissa's Phytohydra.
R
Legendary Creature – Human Rigger
If you would roll the planar die, instead roll it twice and ignore one result.
See other cardsets