[Val] Valhar, the Dying Plane
56 cards in Multiverse
25 commons, 22 uncommons, 9 rares
12 white, 11 blue, 10 black,
7 red, 14 green, 2 artifact
59 comments total
Small standalone set trying to rehabilitate **cumulative upkeep**.
Mechanical Hook:
Valhar is an attempt to create as interesting a small set as possible revolving around a rather terrible mechanic: cumulative upkeep.
There are a few main goals:
Create a playable Limited environment.
Explore ways to interact with the mechanic in a simple form.
Explore the color identity of the mechanic. Make it feel different for each color.
There are also a few self-imposed restrictions/milestones to help the goals:
There need to be cards featuring the keyword at all rarities in each color.
Each rare and most uncommon card has either cumulative upkeep or interacts with one of its aspects (counters, the upkeep step, sacrifice, you name it!)
At common and uncommon there will be no nonmana costs for cumulative upkeep.
There will be french vanillas with cumulative upkeep in each color.
There will be no multicolor.
Beyond cumulative upkeep no other keyword/ability word is planned. I could imagine something interesting springing from someone's mind though, but I specifically want to avoid further existing keywords.
Cardset comments (2) | Add a comment on this cardset
Recently active cards: (all recent activity)
Cumulative upkeep

(At the beginning of your upkeep, put an age counter on this permanent, then sacrifice it unless you pay its upkeep cost for each age counter on it.)
As long as Haarka Fugitive is enchanted, its triggered abilities don't trigger.
Flash (You may cast this spell any time you could cast an instant.)
When Zealous Abjurer enters the battlefield, counter target activated or triggered ability. (Mana abilities can't be targeted.)
Flying (This creature can't be blocked except by creatures with flying or reach.)
When Bellowing Drake enters the battlefield, return a creature you control to its owner's hand.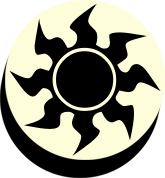 , Exile a creature card from your graveyard: You gain 3 life.
See other cardsets