[JOJO] Phantom Blood
[JOJO] Phantom Blood by Froggychum
36 cards in Multiverse
7 commons, 15 uncommons,
9 rares, 4 mythics, 1 token
1 token black, 6 white, 4 blue, 6 black,
6 red, 7 multicolour, 4 artifact, 2 land
7 comments total
does this make me a weeb? if so, f in chat.
Cardset comments (1) | Add a comment on this cardset
The set creator would like to draw your attention to these comments:
Recently active cards: (all recent activity)
R
Legendary Creature – Human Ally
Your Ally creature spells cost

less to cast.
Enchant creature
You control enchanted creature and it must be blocked if able.
Whenever an opponent casts two or more spells in a turn, sacrifice Hypnotized by Evil.
As an additional cost to cast this spell, exile a creature card from an opponent's graveyard.
Return target Vampire creature card from your graveyard to the battlefield tapped.
Return target Vampire or Zombie that died this turn to the battlefield tapped.
Multikicker –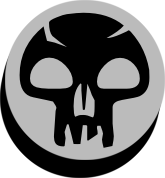 Create a 2/2 black Zombie creature token. Then, repeat this process for each time Sire Zombies was kicked.
See other cardsets