Misc Cards
Misc Cards by wurms
73 cards in Multiverse
5 commons, 6 uncommons,
42 rares, 17 mythics, 3 tokens
1 token black, 1 token white, 1 token hybrid redgreen, 2 colourless, 4 white, 13 blue, 6 black,
5 red, 11 green, 17 multicolour, 3 hybrid, 6 artifact, 3 land
204 comments total
I bet nobody has done this before! (Don't take these too seriously, I'm just dumping.)
Cardset comments (7) | Add a comment on this cardset
Recently active cards: (all recent activity)
Exile Eye of Alrund from your hand: The next time target spell or ability an opponent controls would cause that player to:
- Take an extra turn after this one.
- Cast a spell without paying it's mana cost
- Search their library for a nonland card
instead counter that spell or ability and draw a card
R
Legendary Creature – Zombie Warrior
Sacrifice another creature: Grimloch The Grave-King gains indestructible until end of turn, tap it.
You may cast Grimloch The Grave-King from your graveyard as long as you control no creatures.
If Leyline of Convergence is in your opening hand, you may begin the game with it on the battlefield.
You may spend mana as though it were mana of any type to cast creature spells.
Reach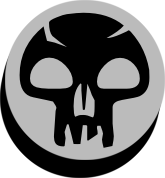 : Return Graveweb Recluse from your graveyard to the battlefield.
It's web is it's womb and it's tomb.
Colored spells your opponents cast cost

more to cast.
It drains a world of more than it's life
See other cardsets