Eragon
277 cards in Multiverse
107 commons, 83 uncommons,
65 rares, 16 mythics, 6 tokens
1 token white, 1 token red, 2 token green, 2 token black, 35 white, 35 blue, 35 black,
35 red, 35 green, 40 multicolour, 15 hybrid, 20 artifact, 21 land
249 comments total
Cardset comments (29) | Add a comment on this cardset
Recently active cards: (all recent activity)
Enchant Rider creature
Cast Gedwey Ignasia only if you control a Dragon creature.
When Gedwëy Ignasia enters the battlefield, if enchanted creature's toughness is 2 or less, destroy that creature. Otherwise, put a bond counter on it.
As long as enchanted creature has a bond counter on it, it gets +5/+5 and has flying, hexproof, and "Whenever this creature attacks, scry 1."
Human creatures you control get +1/+1 and have first strike.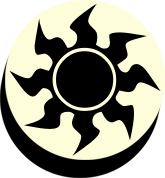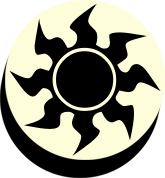 : Put a 1/1 white Human creature token onto the battlefield. Activate this ability only once each turn and only if a creature is attacking you.
Destroy target creature with flying.
As endless arrows pierced its wing, the dragon fell with a bellow that was destined to be its last.
C
Creature – Human Townsfolk
Lifelink
Many in Carvahall till the land, an honest profession that keeps the town well fed during the winter months.
The greatest horses have within them some remnant of the spirit of Gildintor, the greatest steed of legend.
See other cardsets