Ulgrotha Undying v3
82 cards in Multiverse
6 commons, 30 uncommons, 34 rares, 12 mythics
8 white, 7 blue, 11 black, 12 red,
9 green, 26 multicolour, 8 artifact, 1 land
12 comments total
Recently active cards: (all recent activity)
Defender
When Treasure Reef enters the battlefield, surveil 1.
When Treasure Reef dies, create a Treasure token.
When Deathspeaker Acolyte enters the battlefield, you gain 1 life.
When Deathspeaker Acolyte dies, create a 1/1 black Vampire creature token with lifelink.
C
Creature – Treefolk Scout
Defender, persist
As long as Rosethorn Rambler has a -1/-1 counter on it, Rosethorn Rambler can attack as though it didn't have defender and deals combat damage equal to its toughness rather than it's power.
R
Legendary Planeswalker – Taysir
Whenever you sacrifice a permanent, put a loyalty counter on Taysir, the Nomad.
0
Create a Treasure token.
-2
Each Taysir planeswalker you control deals 1 damage to target player or planeswalker.
Escalate--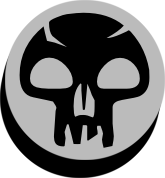 , Pay 1 life.
Choose any number -
:: Each opponent sacrifices an enchantment.
:: Each opponent sacrifices a creature.
:: Each opponent sacrifices a planeswalker.
:: Each opponent exiles their graveyard.
See other cardsets