High Fantasy/DD
11 cards in Multiverse
1 with no rarity, 6 commons, 3 uncommons, 1 rare
2 white, 2 blue, 4 black, 2 red, 1 green
10 comments total
D&D/High Fantasy Themed with Emphasis on flavour.
Recently active cards: (all recent activity)
Provoke (Whenever this creature attacks, you may have target creature defending player controls untap and block it if able.)
Look at the top 13 cards of your library. Put one into your hand and exile the rest face down.
Flying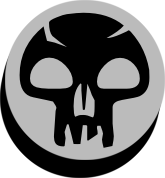 : Dungeon Shade gets +1/+1 until end of turn.
See other cardsets