Final Fantasy
10 cards in Multiverse
2 commons, 3 uncommons, 3 rares, 2 mythics
2 white, 2 black, 1 green, 4 multicolour, 1 artifact
17 comments total
Just a few MTG cards based on FF characters.
Cardset comments (1) | Add a comment on this cardset
Recently active cards: (all recent activity)
+1: Target permanent from a Final Fantasy expansion becomes indestructible.

-2: You may cast a Final Fantasy expansion card from your graveyard without paying it's mana cost.

-10: Draw seven cards, then cast any number of cards from a Final Fantasy expansion without paying it's mana cost. They gain Split Second until the end of turn.
Choose one – Return target non-black creature from your graveyard to play; or destroy target black creature.

Entwine 1W (Choose both if you paid the Entwine cost)
"Life is bless, cursed by the wicked ones" – Aeris Gainsborough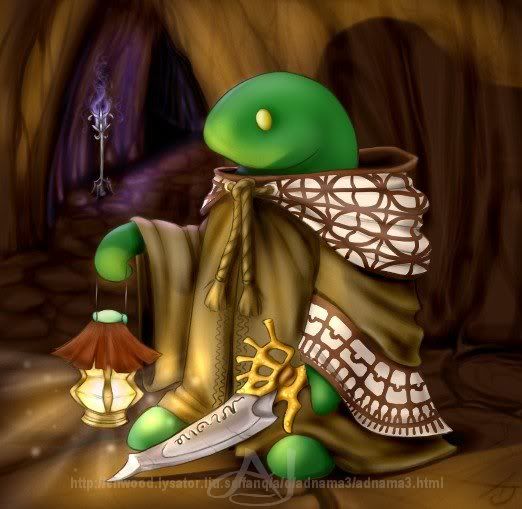 Tonberry does not untap during your untap step unless you remove 2 step counters from him.

At the beginning of your upkeep put a step counter on Tonberry.

T: Target player sacrifices a creature of your choice. Put a +1/+1 counter on Tonberry.
"Darkness harbors many dangers. A lamp light can be one of the worse" – Cid

Legendary creatures you control can only be blocked by creatures that do not share a color with them.

Legendary creature you control can't be target of spells or abilities that share a color with them
"Kweeehhh!!!" – Chocobo
U
Legendary Artifact – Equipment
Equipped creature gets +3/+0 and Vigilance. As long as equipped creature has "Sephirot", "Auron" or "Gilgamesh" in it's name it gets an additional +2/+0, Trample and Double Strike.

If a creature with Sephirot in it's name comes into play attach Masamune to it. You cannot pay Masamune's equip cost as long as it is attached to a creature with Sephirot in it's name.

Equip: 3
"Even the most powerful weapons are useless if you do not possess the skill to wield them." – Hades, Legendary Synthesizer
See other cardsets